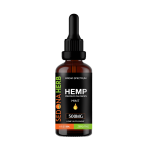 Expired
Premium Hemp Oil Drops, Broad Spectrum, 500mg Zero THC – 1 oz
Our 1oz Broad Spectrum Distillate tincture is a cannabinoid-rich formulas which contains 0% THC with an array of cannbinoids such as Cannabidiol (CBD). Our extraction and purification process uses a proprietary technology that preserves all the phytocannabinoids, terpenes and plant lipids while eliminating unwanted THC, waxes, and chlorophyll. Our Zero THC Hemp Oil Distillate has the entourage effect, something that CBD isolate cannot compete with. The entourage effect is the theory that all cannabinoids work together and are increasingly beneficial when they are consumed together. It's imperative that you take our Premium Hemp Oil consistently every day to achieve maximum results.
0% THC
500mg
Natural or Mint Flavor
Organic Hemp
GMO Free
Gluten Free
Broad Spectrum: CBD, CBG, CBN, and CBC
3rd Party Lab Tested
Made in USA
HOW TO USE:
Oral: Drop desired amount of Hemp Oil under your tongue to let absorb for up to a minute
Do not take if pregnant or lactating. Always consult a medical doctor before modifying your diet or using any new product. This product is not intended to diagnose, treat, cure, or prevent any disease. These statements have not been evaluated by the food and drug administration (FDA).